My SUP Adventure: SUP in Cabo
Even though I've lived in Cabo San Lucas for almost two years, I regretfully haven't taken advantage of all the amazing water activities Cabo has to offer. I'm not exactly a strong swimmer and sometimes find myself scared of the water. But with a little encouragement from some of my friends, a group of locals that have "board meetings" every Friday, I figured I had to see what SUP (Stand Up Paddle-boarding) was all about.
A Little History
I was surprised to learn that SUP originated in Africa where people would stand on their canoes and use a paddle to push themselves forwards. Warriors did this to conduct stealth attacks.
Fast forward to the 16th century in Hawaii, Hawaiian surfers would surf on these big boards, using a paddle to maneuver the boards that were unmanageable because of their size. In the 90's, SUP started to be taught in Hawaiian surf schools. In 2003, SUP was added to surf contests everywhere. SUP continues to grow in popularity.
SUP in Cabo San Lucas
I planned to be at the beach by 8 am - most people prefer to head out in the morning since the water is calm before all the boats leave the marina. I parked in a parking lot next to the Bahia hotel and walked a few short blocks down to the beach. There are a few different SUP rental companies and I decided to rent from Tio Sports. Tio Sports gave me a good local discount (after showing my ID) and rented me a life jacket, SUP board and paddle for just 180 pesos ($10 US). They had a little basket for me to store my belongings (purse, towel, flip flops). The staff was very serious and helpful when it came to giving me a quick tutorial. Before I knew it, they were attaching the leash to my ankle and it was time to hit the water.
Taking Off
I was ready to start my SUP adventure and quickly pushed my board into the water. I wanted to stand up right away - but let me tell you - that was a big mistake. The waves closer to the shore were really rough and standing up was hard for me as a beginner. A member of our group told me that I should start by kneeling on the board until I got to calmer water. Everything was less scary from that point on.
A Balancing Act
SUP is definitely a balancing act - you have to have your feet planted on the board but you can't be too rigid, you have to feel the water under the board and go with the flow. I'm still working on mastering my balance and fell down about 5 times. Because I had my life jacket on, I quickly bobbed to the top of the water. Climbing back onto the board was easy since the board had a pull-up handle in the middle. I can't lie, falling into the water felt good. Even at 9 am, the sun was heating things up.
Playing In The Water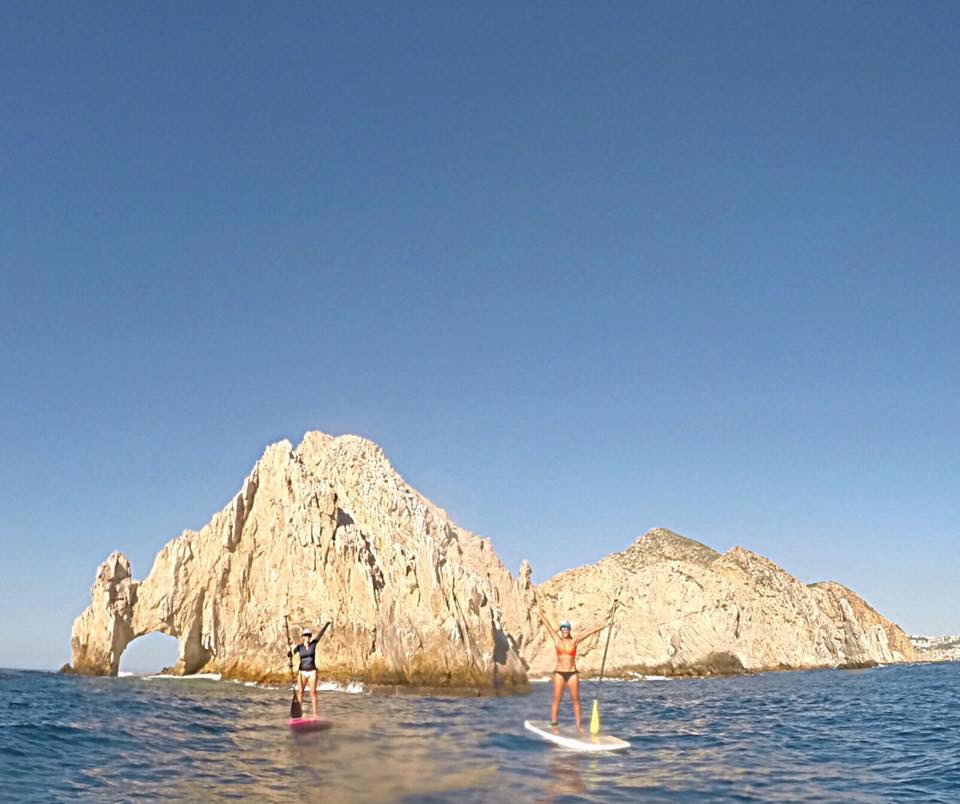 We did all the hard work of paddling out close to the arch, near Pelican Rock. We decided to jump off our boards and some of us climbed the rocks to jump into the water. I tried to climb the rocks but it requires a lot of upper body strength or you risk cutting yourself on the barnacles. I was feeling extra adventurous and wanted to jump from the rocks but couldn't quite pull myself up - I have bruises and barnacle scratches to prove it.
Others decided to go under water with their waterproof cameras to check out the fish. Along the way to the arch, we were greeted my many playful sea lions.It was amazing to be so close to them!
What I love most about SUP is that it's for almost anyone - it's a great water sport for beginners. All you need is your rental gear, a swimsuit and a towel. It's also a good idea to bring sunscreen, a hat, and a waterproof bag for your phone/camera.
Life is either a great adventure or nothing. -Helen Keller
Tell me, what is your favorite water sport?