Weekend Warrior: Cabo Pulmo Diving Excursion
Hurry Over To Cabo Pulmo
This is the proclaimed best time of year to hit up Cabo Pulmo - as the water is warm, the life is plentiful and the visibility is fantastic. Many dive masters say from August-November is exactly the time you want to enjoy Cabo Pulmo, as the water temperature is between 65-86 degrees and the visibility is 30-90 ft.
You may have heard about Cabo Pulmo but didn't really know where it is or what the big deal is...but after experiencing the best dive from several we have experienced from around the world (including the Caribbean, Bali, Cozumel, Cabo and more). We were shocked how many people right here hadn't even been there themselves. If you are looking for a quick day trip that is only an hour and a half away from Cabo ...this is a trip that is sure to not disappoint for diving, snorkeling or a even just beautiful beach.
About Cabo Pulmo
Cabo Pulmo is a national marine park on the east cost of Mexico's Baja California Peninsula. The reef is estimated to be 20,000 years old, is the northernmost coral reef in the eastern pacific, is only one of three coral reefs on the west coast of North America, and is the only living coral reef in the sea of Cortez. Before establishing Cabo Pulmo as a national park in 1995 the area was heavily over fished and since has seen an increase of 463% of reef life in the area. Over 6,000 species can be found here.
Our Dive Trip
Here is a quick guide from our trip - so you can have a cheat sheet to a guaranteed great experience.
We decided to head up early morning to catch the best life for a morning dive session. We left Cabo San Lucas by 7 am to get to the dive center before 9 am. Be sure to book your dive reservation in advance.
We used East Cape Adventures for our 2 tank dives and loved the dive guys there that helped us. Otto, our dive master, was previously a space lawyer in Mexico City now living in Cabo Pulmo, and was super friendly and very professional. Be sure to take your proof of dive certification with you and some snacks like granola bars and water to eat between the two dives and your go pro or underwater camera. If you don't have your dive certification, they will still take you out on an beginner's trip.
Diving at El Bajo & El Cantil
Our first dive out was El Bajo, and the second dive was El Cantil. After a dive like this, one is guaranteed to have dreams of being a mermaid or that of a merman to re-experience the truly incredible scenes as if it was the real life little mermaid or that of finding Nemo. It was as if we were in a gigantic fish tank with bull sharks, sea turtles, sand dollars, star fish, more eels, huge schools of Jacks and more.
Dive Photos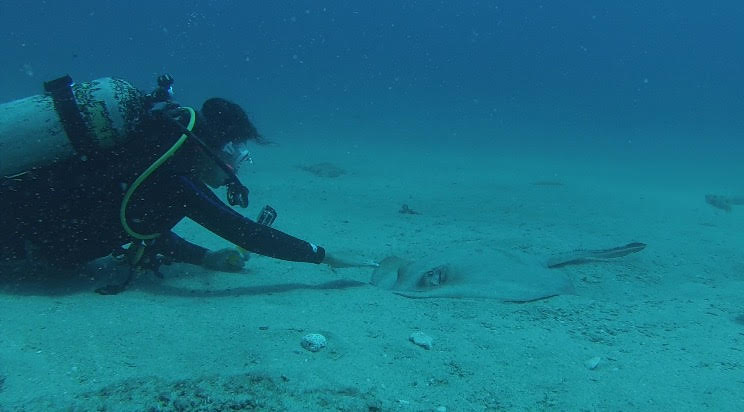 Our Lunch Break
After the second dive there is a cute little restaurant called La Palapa Restaurant right on the beach that we enjoyed for lunch - great tacos, nachos, enchiladas, and a round of bloody Mary's and Micheladas and we were back on the road to Cabo by 3 pm.
Of course if you decide to stay longer and enjoy the beaches, there is plenty of opportunity for that and some great little bungalos you can rent if you would like to stay the night as well.
Adiós until the next adventure,
Faryn and Andromeda